April 3rd 2020, Rosalind Lyons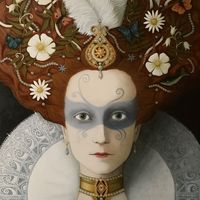 As a practising figurative painter since 1990, Rosalind has exhibited regularly in both mixed and solo shows with work in UK and international private collections.
03/04/2020
She has long been fascinated by the past, her works are influenced by Renaissance art of Italy and Northern Europe, Elizabethan and Jacobean portraits and, more recently, by Shakespeare's plays. A period as Artist in Residence at Shakespeare's Globe prompted a more explicit investigation into Shakespearean theatre. Her practice involves the creation of an interdisciplinary dialogue, where the visual and the verbal intertwine and overlap.
https://www.rosalindlyons.com/