Forthcoming Events
This section shows Events and News for Ely Art Society. Demonstrations start at 7:30pm and are held at the Methodist Hall, Ely, CB6 1AD. Entry is free for members. Non-members are welcome at a cost of £5.
The 2017 - 2018 Demonstration Programme is now available. To download a pdf copy
please click here
If you would like to see what we have done in the past please
click here
13/09/2019
Diane is a local textile artist with a special interest in hand embroidered books and travel journals.
...more
11/10/2019
Andy Dakin, is a figurative artist from Cambridge. Light and shade play a big part in most of his works, offering drama and interest as well as useful information to work with.
...more
08/11/2019
Jelena works in mixed media. She works using paint, collage and digital manipulation building up layers and expressing different rhythms and contrasts
...more
6th December 2019 - Christmas Social
06/12/2019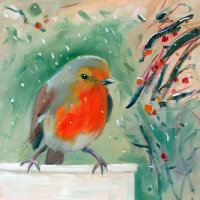 Party will be taking place at Tindalls in Ely, on Friday 6th December 2019,18:00 pm.